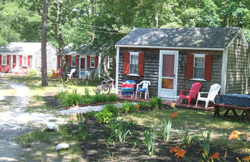 We offer a choice of motel accommodations or housekeeping cottages…snugly tucked in the restful Cape countryside between the historic villages of Orleans and Chatham…minutes from the Atlantic Ocean, Cape Cod Bay, Pleasant Bay, boating, theaters, band concerts, baseball, arts and craft shows, fishing, cross country skiing, Cape Cod Bike Trail, tennis, golf, churches, stores and restaurants…all the attractions that make Cape Cod a favorite vacationland are nearby.
We offer our motel guests free coffee and pastry in season. Our motel rooms are equipped with air conditioning, telephone, refrigerator, cable color TV, and central heat. The housekeeping cottages are nicely decorated, have cable TV, telephone, are spotlessly clean with fully equipped kitchens.
A large, private, outdoor swimming pool, lovely cookout area, playground and lawn games are set back among pine woods and are available for cottage and motel guests only.
Free Wi-Fi in ALL UNITS!
WEDDINGS: We offer your wedding quests convenient and affordable lodging, just minutes from the Lower Cape's most desirable wedding venues, such as the Winslow Estate, Wequassett Resort and Chatham Bars Inn
We believe our country location and friendly, personal service make the Ridgewood your best choice for a tranquil vacation.
Exciting Things to Do & See!
While you are staying with us you may be looking for information on things to do and places to go. Here are some suggestions with telephone numbers and interent links. Hope you have a great vacation on Cape Cod..